| | |
| --- | --- |
| EP criticises Czech opt-out from Lisbon Treaty | |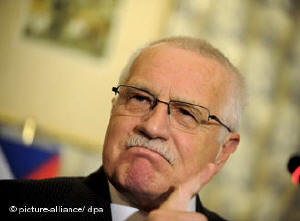 Strasbourg, May 22 (CTK) - Former Czech President Vaclav Klaus's effort to push through an opt-out from the Lisbon Treaty was unfortunate and this is why the European Parliament's negative stance on it is logical, Czech MEP Zuzana Brzobohata (Social Democrats, CSSD) said yesterday.
Brzobohata, who represented the European Social Democrats in a debate in the EP's constitutional committee, has opposed the opt-out since the beginning.
The European Parliament (EP) yesterday recommended that the EU member states not deal with the opt-out from the Lisbon Treaty connected with the application of the EU Charter of Rights and Freedoms, which Klaus as the then head of state pushed through in 2009.
The EP's stance is not binding on the EU member states.
Brzobohata said the EP yesterday clearly showed that any attempt to weaken the EU Charter of Rights and Freedoms must be swept from the table.
"The initiative of former president Klaus has been unfortunate since the very beginning and it has lacked general support. Besides, his proposal was not supported by a majority in the Parliament of the Czech Republic. This is why the result of yesterday's vote seems to me entirely logical also in connection with the Czech legal order and the observance of democracy rules," Brzobohata noted.
"Czechs must not become second-rate citizens. They are European citizens and are entitled to the same legal protection of social rights as all other EU citizens," she added.
Klaus said in 2009 he would not sign the Lisbon Treaty unless the Czechs were granted the opt-out. He justified the opt-out by fears of Sudeten Germans' property claims with the European Court of Justice.
Most legal experts ruled out such a risk.
The EU summit approved the opt-out for the Czech Republic in October 2009.
Klaus then signed the Lisbon Treaty as the last EU head of state.
MEP Andrea Ceskova (Civic Democrats, ODS) expressed disagreement with the opinion that the opt-out would weaken the citizens' legal protection and cause uncertainty in the European law.
Jan Zahradil, head of the ODS MEPs, criticised the EP's stance.
"The European Parliament questions a guarantee given to the Czech president before he signed the Lisbon Treaty. This is a disgrace that turns the EP into an untrustworthy body. I hope that the European Council will meet its commitment towards the Czech Republic and will ignore the EP's stance," Zahradil said.
Let's discuss this news in our forum!